So... I have not made a gingerbread house since I was in 5th grade at Trinity Lutheran, and I thought it would be fun to do one with the kids as a family. I bought a cute kit at Costco. It came with everything and all you have to do is put the house together and then decorate. Sounds simple enough right?
So this is what my creation is supposed to look like according to the kit: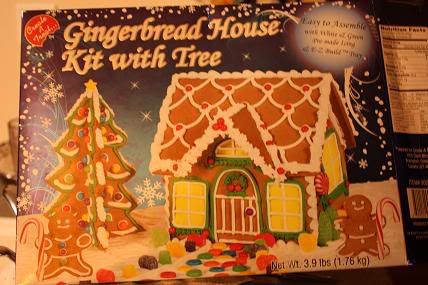 So please tell me why ours looks like this: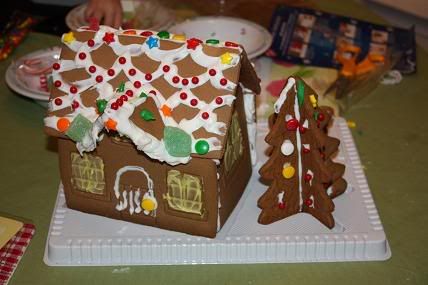 Umm I wish I could tell you that my kids made this, but in all honesty, they weren't that interested, and just wanted to eat the candy, so in fact this is a creation made my Dave and myself. God forbid I ever have to decorate a cake... The one I made in 5th grade was much better that much I can remember.... It was still fun though.
I took some pics of our actual house a few days ago messing around with my new camera. I love my camera and I am so glad my parents got it for me. Dave is only able to shoot with it in automatic as he's not interested in reading the massive manual. In all honestly I need to read up on the functions some more, but I am getting the hang of.
This is a picture taken outside at night on Auto with a flash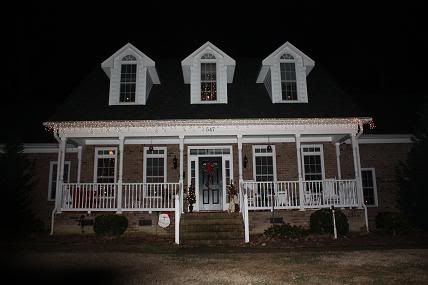 This one I took with out a flash and adjusted my ISO up all the way. I think it's so pretty!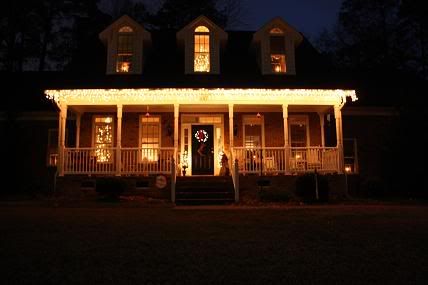 As you can see I left the boot hanging from the wreath. I just didn't know what else to do with it honestly, and it's grown on me. A delivery lady dropping off some Christmas presents I ordered today told me loves it, so I guess it's not so bad.