I have three kids ages 3, 2, and 8 months, so bear with me. They all have their owns rooms.
This 1st room is my 3 year old's room. You can't see the colors too well but we did a light pink above the chair rail, and a light green under it. Her crib was converted into a day bed, and soon we are moving her into a full size bed. She just made the move from a crib to the day bed not long after she turned three. She never tried to climb out, and we figured why rush things. I have seen too many moms move their kids too early to a bed and have to deal with months of drama.
Another view of Laura's room. The tutu thing on the wall is her bow holder. I think it's so cute. Even though she is potty trained now we just keep the diaper changing table in her room, guess we need either move that in another room or use it as a book shelf. Next to the diaper area is the laundry basket, with massive amount of dirty clothes... geez, it's never ending...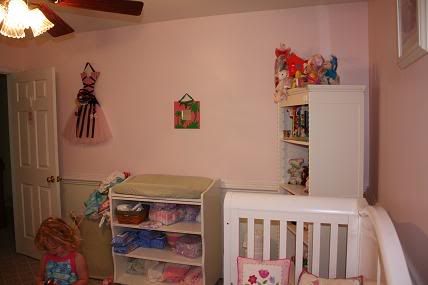 I love the dormer windows in the front bedrooms. Makes a really cute nook in the rooms.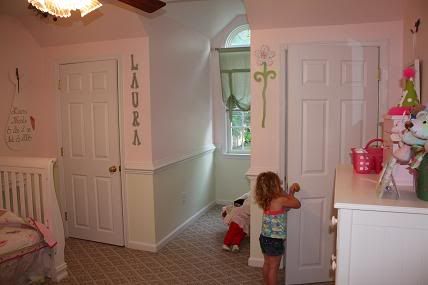 Last view of her room and miss thing pretending to talk on a cell phone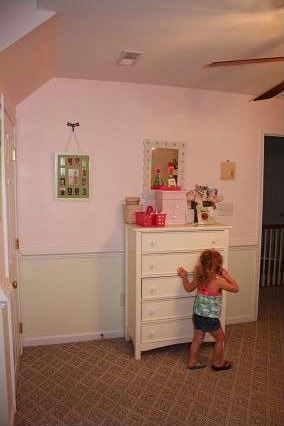 This room is my two year olds. We did the bi- color thing again after picking out the tropical theme bedding from Pottery Barn kids a few years ago. I love the paint color combo in this room. Rachel is still in a crib, and she does get out, so we are going to convert her bed into a day bed possibly this weekend. Ayyye hope it goes well.
Another view, she has a tutu bow holder thingy as well. Rachel and my youngest don't have as many knick knacks as Laura. Guess that's a first born thing...Everyone showers the first baby with stuff and not so much with the others...Don't worry girls, I will spoil you forever.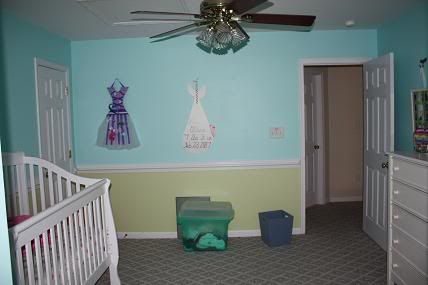 View of dormer window area
The white cabinet I got from a neighbor when they moved away. I had to give it a fresh coat of paint, but it looks really good especially in this room. You can't see the little flower arrangement I did very well, but I made one with those huge faker gerber daisy's from Michael's, and some glitter picks.
On our last baby's room we were done with all the foo-foo. I didn't want to do pink again, and we did the beachy theme with Rachel, and I am not a fan of purple... also, I am not big on character themes. So I went with Lady Bugs. Dave painted the stripes, and he did great, but the very idea just about stroked him out. Laura I think wanted to be in all the pictures...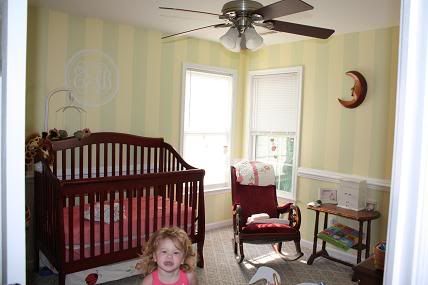 The crib bumper had lady bugs on it, but I took it out for safety reasons as she tends to toss and turn when she sleeps.
Another view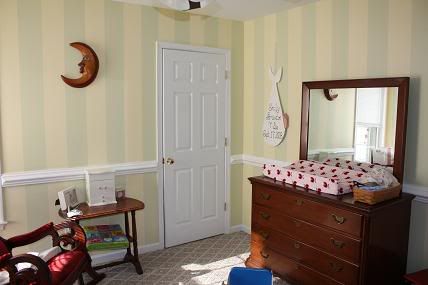 The only new furniture item in the room is the crib. The rocking chair was my grannys. I was going to get it recovered last summer but the quote I got for it was wayyyy crazy. The red on it is good enough to go with the room though. The dresser I believe was from my great grandparents house. I used this dresser at my apartment when I lived in Richmond for graduate school.
Last view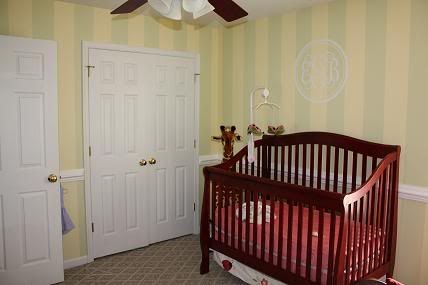 Emily doesn't have the cutesy dormer window in her room but that means she has lots more closet space! The decal over the crib I bought on Etsy.
So that's it! Thanks for stopping by!