I love Halloween and fall, and wanted to share some of my cooky fall stuff.
First the front porch. I have a berry wreath on our front door this year that we actually got as a wedding present, and I never used until this year. I think it looks good with the black door that Dave painted. We have of course our crazy pumpkins from the pumpkin patch we went to, and a few other decorations out.
In our front yard one of my favorite Halloween decorations is this Witch Sillouette. September '05 I saw this witch on the cover of Martha Stewart's Magazine, and they had directions on how to make it on her website. My mom, dad, and I put the pattern together and cut it out of plywood, and then painted it black. The larger cat you see is also from her magazine, and Dave cut that out from left over plywood from the witch. She holds a lantern, and I put a candle in it on Halloween.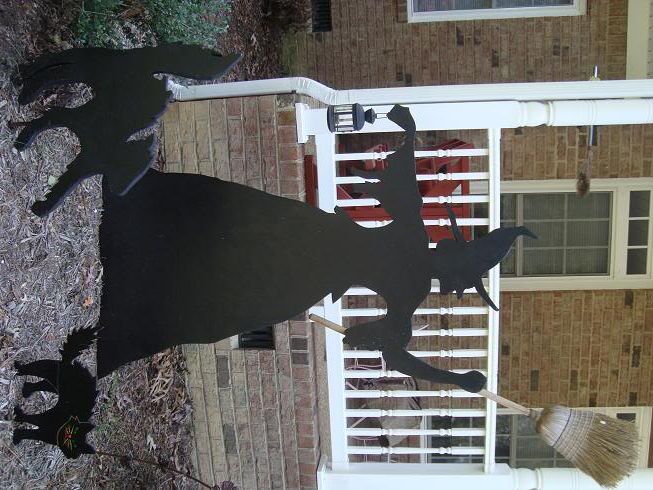 Inside in my dining room I have this pumpkin rod iron candle holder thingy sitting in a Souther Living at Home container. The pumpkin candle holder I bought in Dresden, Ohio when I went with my sister to the Longaberger headquarters in 2004.
On top of my China cabinet this year I copied some other bloggers who were using their candle sticks to hold little pumpkins. One pair of Candle sticks are from Souther Living at home, and the other I got many years ago at TJMAXX. The pumpkins came from Michael's. I got the crows on the pumpkins at this years Fall Festival last weekend at Newport News Park.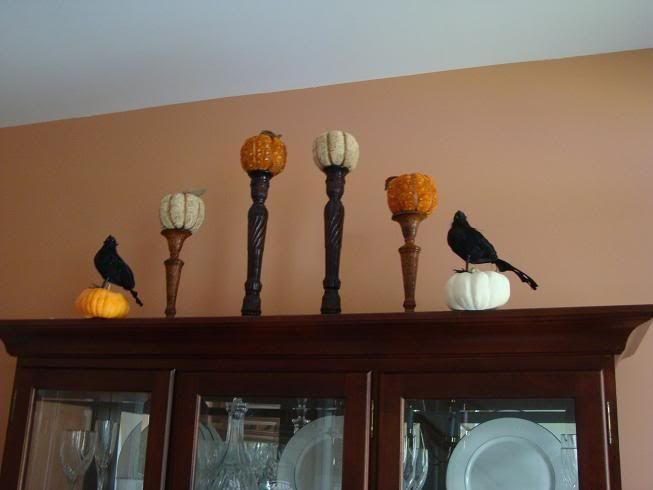 In our Den I have a small table that tends to be my seasonal table for decorations, mainly because I am not creative enough to find other areas in the house to put things. These decorations are more or less a little crazy looking, but I tend to like the more primative style of Halloween decorations, as well as Christmas decorations. Most of these decorations have come from the Newport News Fall festival over the many years I have attended. I also used some other Souther Living at Home candle sticks to put a few things on, as well as the pedestal.