oh Target how I love you... where did I blow away my money before you came into my lfe? My oldest daughter Laura goes to preschool on Fridays, and while she is in school for a few hours my other girls and husband have a little tradition now. We go to breakfast at Papa Georgio's, and then head to Target. This may sound insane, but I never really looked at the kids clothing in there ever until we began these outings. I just bought everything at the outlets in Williamsburg, Gymboree (my other great love) and of course some things at these great consignment stores in Williamsburg as well. As you can imagine I have spent a fortune in my kids clothing getting all this name brand stuff. Don't get me wrong, I am still going to be a great Gymboree customer and frequent the other name brand places, but I have to say the girl stuff at Target is super cute, and the prices rock...
I have been stalking the kids section every Friday to find this outfit- that they finally had my local Target today... I had seen it in the ads, and every week I would go and hunt for it and today they finally had it. I got it for both Laura and Rachel and each piece was a mere $4.00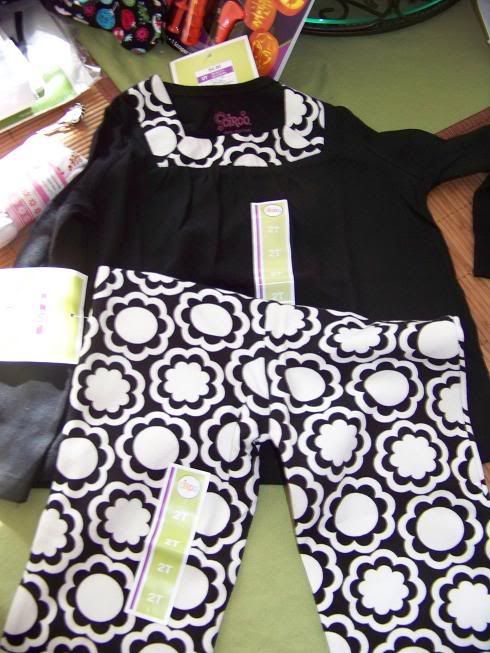 I also picked up these Christmas pants for Laura and Rachel for $4.99 a pop. I love the ornament print.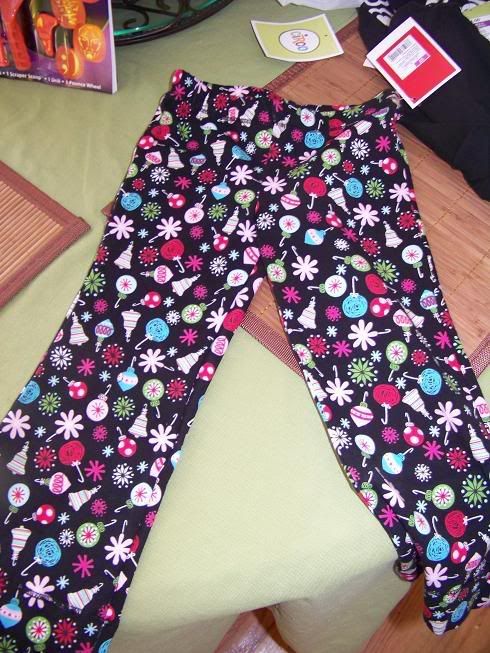 In the dollar section I found these cute tights. I grabbed a pair for Emily- the only size I saw was 0-6months or I would have bought them for all the kids. You can't go wrong for a just a dollar for some cute tights.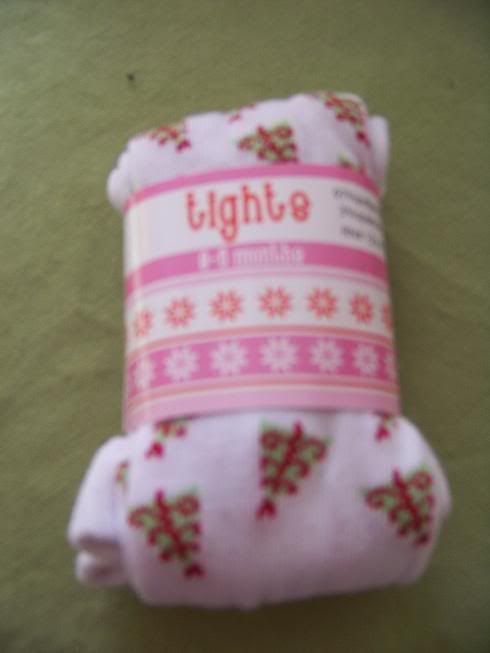 Target has all their Halloween stuff at 75% off right now. I picked up a pumpkin carving kit for next year, some goody bags, and I also got two cute Halloween shirts for the kids for next year for dirt cheap. They also have a ton of costumes and what not that would be great bargains for next year or for kids for dress up.
My whole purpose of heading to Target today was actually for formula but I ended up with a bunch of other stuff but hey, it was all good deals. Something I just learned about formula that has been awesome is that those formula checks that you can get in the mail if you sign up on their website or what not that come in the mail for like $5.00 off or whatever- well you can combine them with coupons. I might be the only one out there that didn't know that until I read it a month ago, but I was super excited to find that out... We usually get formula at Sam's Club or something, but those places don't take coupons. Not really sure about the check thingys, but I know they don't take coupons. Anyways, I had a coupon for $10.00 off her brand of formula, plus one of those $5.00 checks, so I saved $15 right there. It doesn't take much to excitement me if you couldn't already tell. I am all about a bargain...