Well I am back from our shopping trip to Lancaster, Pa. I had a great time, and I will share more in another post. In the mean time I wanted to just give some praise to my hubby. He stayed home and took care of our youngest, who is still a little young for such a trip. I came back to a clean home. Not just throw everything somewhere really fast clean, but actually a deep cleaned home. He even cleaned the bathrooms, bought new little hooks for our sponges in the shower, did all the laundry (aka the huge pile that was NEVER ending). Seriously, he did so much laundry that he says if our washer and dryer both dry tomorrow, then he's ok with that as they have paid their dues.
And wait for it...he even finally painted a kitchen chair that I have been waiting for him to paint for over a year. I just can't be prouder.
My March goals have pretty much been tackled. I got some pictures framed finally, (I still have a few more to do, but will hopefully finish that up this week). The girls Easter dresses were purchased on our trip as well. I think I am going to throw in another goal though since I have pretty much secured those, and have time left. I was on Twitter, while I was away, and saw an amazing idea from someone else (aubetodd) on a cool use of a strawberry planter pot. Basically, instead of putting in a strawberry plant, you put in pansies in the hole like this: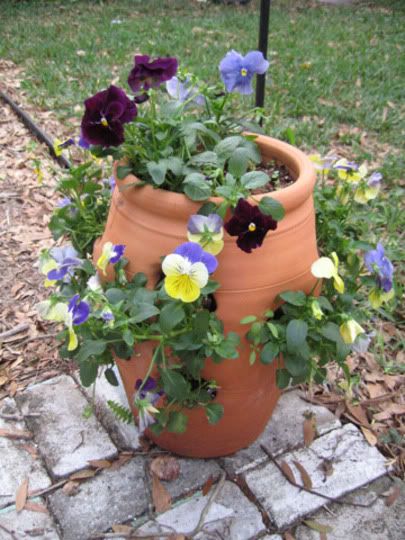 (photo from growonme.com)
I think that is so pretty! I actually have one of those pots too, that is sitting all ugly on the side of my moms house. It was my grandmother's. I need to get the dirt out of it, and start from scratch, but I am game!