Ruelala.com is a invite only discount shopping site that has select brands on sale. They have everything from Vera Bradley to Tory Burch, and run a a few sales a day. Today began the Lilly Pulitzer Sale... I took my lunch early today as the sale started at 11am my time, and got ready and put some stuff in my "shopping cart" when I went to check out my items were already sold out. Craptastic. There was a lot of great stuff for super great prices. I ended up getting back on the website when I got home to see what was left, and was happy to see some little girl items were left. I was able to pick up this dress for either Laura or Rachel as they are wearing the same size currently:
I also got this skirt that is reversible: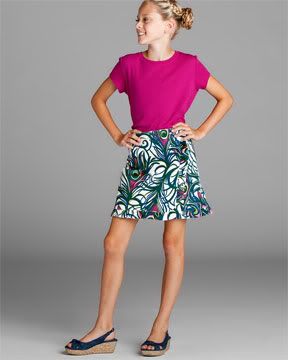 It's weird picking out clothes for my 3 and 4 year old with a model thats like 12 modeling them, but whatever...
They had some men Lilly available too, and I am sorry but what kind of "man" would wear this?
The clothing options for men just had me in giggles. Scary enough those pants are on super sale on this site for $69 dollars, and retailed for $195. Please oh please do not buy a straight man anything from Lilly. I support the gays and all, but I don't want my husband looking like one =)