I grew up a 80's baby. I was born specifically in 1980, yes that does mean I am turning 30 this year. One of my favorite toys I had in those years before I got into sports and then later boys, was Barbie... I had everything Barbie. No seriously, name something that biatch had in the 80's and I had it. Let's take a trip down memory lane...
This was Prima Ballet Barbie I think. She had a small stand and you could turn something on her head that was sticking out of her crown and she would do some sweet ballet moves...I remember back in the day my parents had a maid name "Fanny" ( I kid you not), I got so ticked off because she would clean my room and she would always put the wrong Barbie in the ballet stand. Yes, Fanny should have known better. (j/k sorta)
This barbie's dress glowed in the dark... she also had this umbrella thing that glowed in the dark too

This barbie was a top favorite of mine, but I am pretty sure mine had really blonde hair, she also came with a stamp pad and a heart stamp.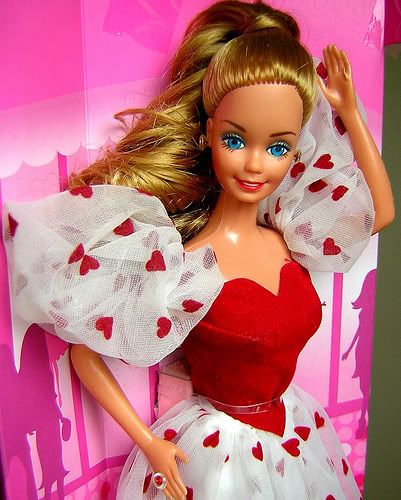 See this barbie? Inside the box there is a pink thingy in there... It was for you to twirl her hair with... I could never get that damn thing to work, but I think you could also use it to braid hair with because my sisters could work that joker.
This one was called Crystal Barbie or somthing... Honestly, I remember praying that one day my prom dress would be just as awesome. The material was like thick saran wrap.
This Barbie, is in fact my all time favorite barbie... Behold, peaches and cream barbie... I got her for my 5th birthday, and boy was I excited... Actually, Target has brought this barbie back in their vintage line. I have seriously come close to buying it three different times, but I am afraid my kids would get their paws on it.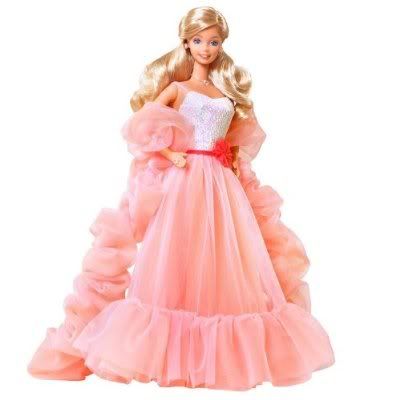 Let's also take a moment and remember Barbie and the Rockers...How cool did I think I was when for my 7th or 8th birthday I got the Barbie and the Rocker stage... Yepp, I think there is a picture somewhere in my parents house of me looking like I won the lottery after I opened up that present...
This leads me to Jem- who also could rock out like noone else
Santa always brought me some awesome accessories: behold the swimming pool
I also got this smaller jaccuzi pool thing, it had a pump you could press to make bubbles:
Santa also brought this but, ahem, my mom told me that Santa accidently left this with the neighbors (aka she forgot to put it out with my crap that year and told a big ole lie to me) So she found it later and explained what Santa had done
I also remember having a huge barbie dream house that took up my entire closet. Also, did you know there was a Barbie Mcdonalds play thingy too? Yepp, I had that too. I also asked for and received a black barbie, because I needed to keep things real back then.
Oh the memories.....