I had my first sewing lesson today. For those of you who do not know, I got my first and most likely only sewing machine for Christmas from my mom. Let me tell you, I am sooo glad I didn't purchase the sewing machine I eyed at Target on Black Friday. My mom went all out, and got me a Bernina Bernette 92C. My mom is a huge sewer, having started when she was a little girl. She has a Bernina as well but she's got one that is also an embroidery machine. Mine does some monograming and a gazillion decorative stiches, but it's not as fancy as hers, with good reason since I am a newby., and because the fancy ones cost about the same as a used car. The one I have is complicated enough for me haha.
So today I had my "Out of the Box" class. The only sewing I have ever done before today was in a home ec class I took in highschool. We made a sweatshirt, but I couldn't tell you for the life of me how we did it as basically the teacher did most of it. It was complicated that much I remember!
Dave was so funny, before I left he said he expected me to come home with a shirt for him or at least a pillow. He's going to be disappointed! Today I basically just learned how to "wind the bobbin", "thread the needle", and I did some basic stitching, and learned the functions of all the buttons and dodads on the machine. It was fun. I was completely scared this would wayyy over my head, but it wasn't too bad. Of course it was just learning the basics, and when I came home to try on my own I jammed the machine immediatly, but luckily with my mom next door she helped me out of that one.
So here are the stiches I did in the class, I know you are all amazed lol.
When I came home and practied I did some more stitches, and then I did my first kinda sorta project. I bought a handmade apron at a Church Craft Show, and one of my kids kindly ripped off the part that goes around your neck on one side. Today I mended that, so my apron is usable again! I feel so proud!
While I was at the shop I bought some "fat quarters" that were cheap. I have no idea what I am doing with them, but they were cheap and pretty, so I am sure I can figure something out in time. If nothing else I will use them to make napkins haha.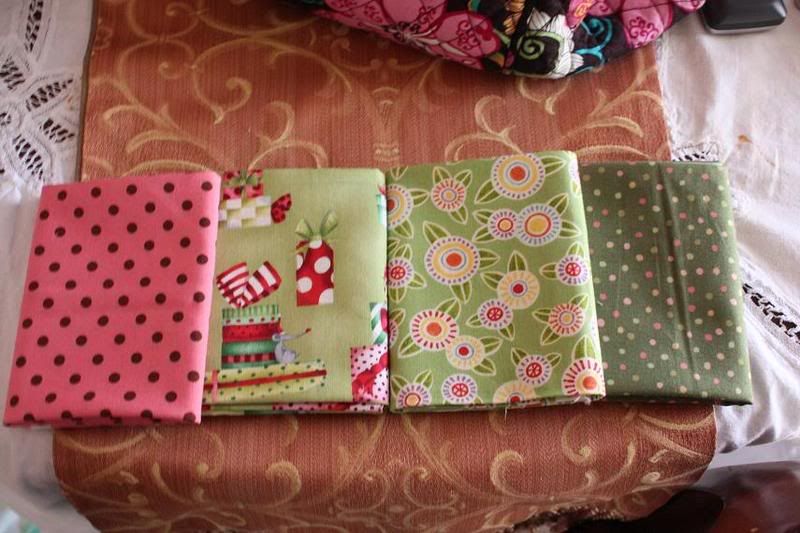 I wanted the machine as I think it will be fun to make dresses for the kids and other clothes. I plan on trying to make pillow case dresses for them. They do not look complicated at all, so in time hopefully I can figure that out. I also just want to do general crafting with it. I am excited about this new hobby though.