Today is my mom's birthday, to celebrate I deceided to have a small cookout for her. Hot dogs and hamburgers are always crowd pleasing, if you don't like either, then your not American. I also decieded to tackle another Pioneer Woman receipe from my cookbook. Here is the link to the same one on her website : http://thepioneerwoman.com/cooking/2009/04/macaroni-cheese/
Homemade macaroni and cheese is something that just screams "hi, I really want to gain about 10lbs, and have my face blurred out on a news program about obestity. " It's worth it though every time, and under no circumstances when you have a people over and you serve mac and cheese should it be Easy Mac, or Stouffers. That just says , "I really didn't want you over, and I didn't even like you enough to make an effort that involved heating something up, or taking an extra step after boiling water." I didn't have any cheddar cheese, I just had a massive bag of mexican cheese from Costco. Overall, it was ok, but would have been a million times better with good ol freshly grated sharp cheddar.
Another crowd pleaser I have been serving lately for partys is this easy punch that I got from Kelly's Corner recipe blog. It's super easy and everyone loves it.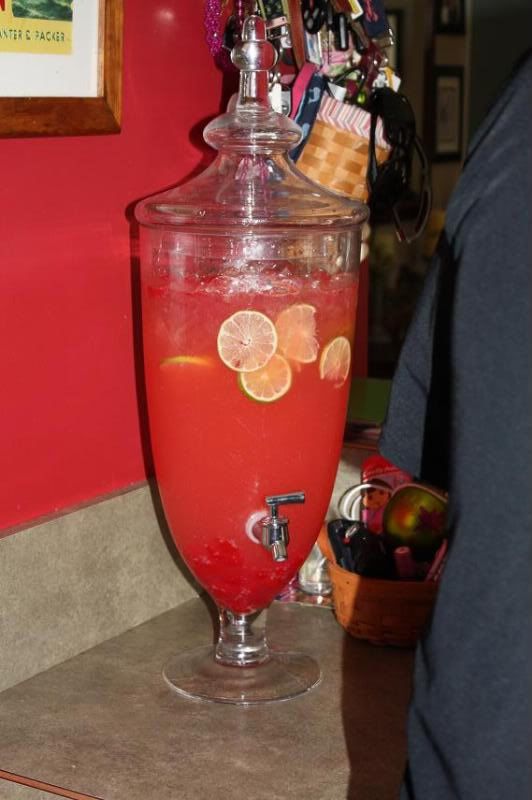 I have a large beverage dispenser, and all I do is dump in two 2 liters of Sprite, two frozen limeaide thingys, two jars of cherrys (juice too), and then add some ice, and some sliced limes, and you have some yummy cherry flavored limeaide. Looks really pretty as well.