After seeing some pretty mesh wreaths I became focused on making one myself... I saw some pretty ones on Etsy for $100. I figured it couldn't be THAT hard, or cost that much... This am I went to Sam's Club and bought two things of mesh. Each cost under $7, and I probably used 1/4 of each spool. I bought some picks and decorations at Michael's, and spent $14 BUT I didn't use three of the more expensive decorations on the wreath (I will figure out something to do with them later). Here's the mesh I used: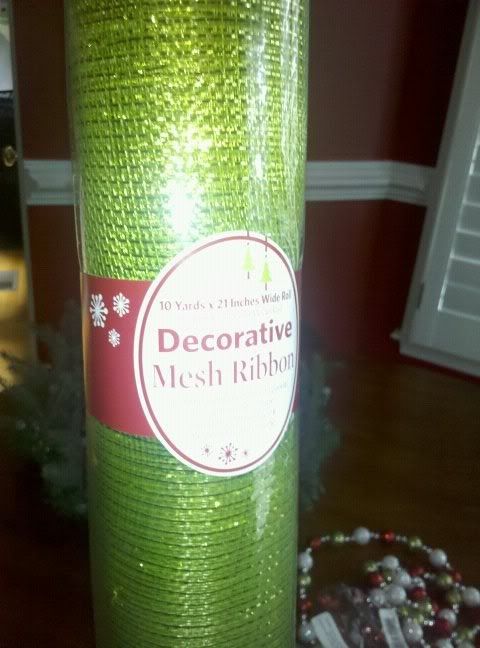 And here are the supplies (excuse the poor quality of my cell phone pictures.)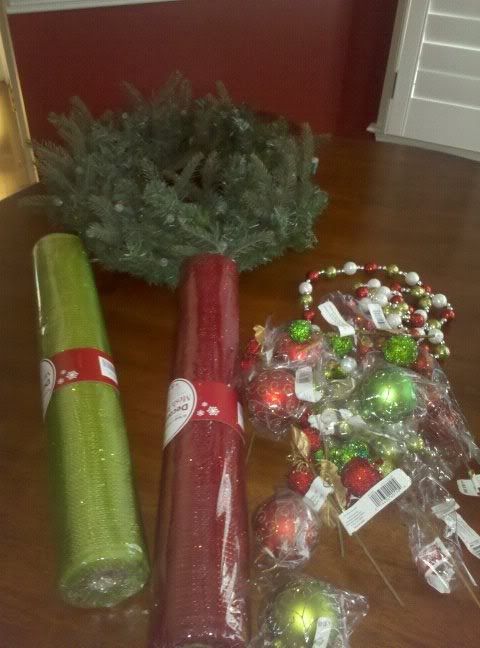 For my wreath base I just used my old fake wreath that has lights on it that don't work. I figured the lights would be covered up so it wouldn't matter. The fake branches on it really helped with holding the mesh. They also held my picks in too. I didn't end up using any hot glue.
I stuck in an end of the mesh in the wreath, and then about 12 inches down I gathered it, and then used some of the braches on the wreath to tie it, and just continued gathering all around the outside, and then I went back and did the other color on the inside. I got the gathering how to from a youtube video found here: http://www.youtube.com/watch?v=beNMTZL78DM
She used a different wreath form and floral pins, but the gathering is the same....
After doing the mesh I just jabbed in some decorative picks, and then hung it on the door.... I love it!