My oh so talented sister in law, (check out her blog
here
)made some yummy Carmel popcorn a few weeks ago, and shared it at a family gathering. It was sooo yummy, and she shared the secret, that she found it on a blog. This morning I was wanting to make something new, so I gave it a whirl, and put my own touch on it as I didn't have the exact needed ingredients. You can find the original recipe
here
To make it the way I did follow this:
You will need:
1 c of brown sugar
1 stick of butter
12 cups of popped popcorn
3/4 tablespoon of cinnamon
1/4 cup of honey
1/2 tsp. baking soda
1 tsp. vanilla
I popped my own popcorn as we own own a handy dandy popper. Seriously, go by one. They cost about $20 and they will last you forever.... Popping your own popcorn is much tasties then microwaving, and MUCH cheaper.... To get the needed popcorn amount I used 1/2 of unpopped kernals.
Here is my popcorn waiting to start poppping!
Once popped, I poured it all in a large bowl
Then in a microwave safe glass bowl I combined the brown sugar, butter sliced up, cinnamon, and honey.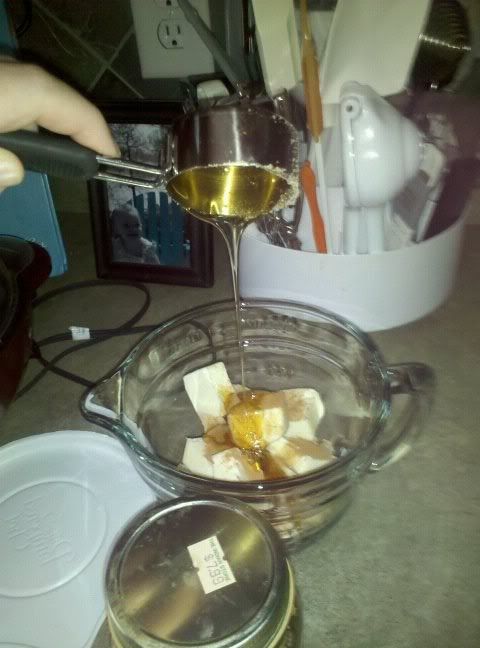 Put it in your microwave for 2 minutes, and stop it about every 15 to stir up. Your stuff will melt together and form the carmel. Then when it is all gooey, stir in your vanilla and baking soda which will cause it to foam up some. I don't have pictures because I didn't want to burn myself or drop my phone in the gooeyness. So sorry. Then pour over the gooey mixture in your bowl of popcorn and stir it. Work fast but carefully to try to get it as coated possible.
Then take a baking sheet lined in foil, and scoop on your popcorn. I may have made a bit too much popcorn or just not have a large enough baking sheet. Whatevers... Stick it in your preheated oven on 250.
Make sure your little ones keep an eye on it...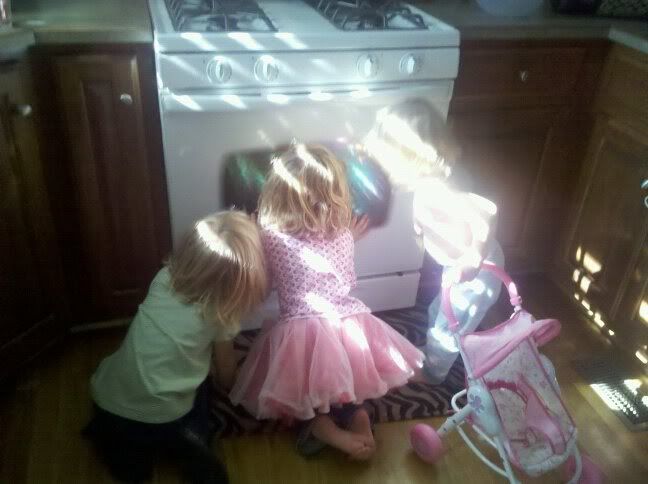 This process lets it get a bit harder. The original receiepe calls for you to stir it around some, but obviously if I were to have done that, it all would have gone in the bottom of my oven and stunk up the house. So I just let it sit in there for 20 minutes.
Put out some foil on your counter
Then take out the popcorn from oven and spoon it on the foil. I heated up some chocolate melts and then drizzled some over the popcorn.
Let it sit for a while for the chocolate to harden up. My kids went nuts over this. Seriously, after they ate a ton, and I shared a small bag with my parents this is all we have left.
I am saving those for my husband and his friend who have been gone all day fishing in a tournament. Hopefully I can keep the kids away from it!